Verbinnen's Nursery was established in the year 2000 when John and Cindy Verbinnen acquired the nursery from Cindy's father, Henry Groen, who retired from operating Groen's Nursery Ltd. John and Cindy have over 40 years experience in growing tree and shrub seedlings, having worked in the industry for several decades.
Verbinnen's Nursery specializes in growing native (indigenous) species of tree and shrub seedlings. Our products are used for naturalization projects, roadside plantings, commercial and residential landscaping and for growing on in larger containers and field production.
We grow about 100,000 field grown seedlings for bare root production, another 400,000 seedlings in plugs and over 180,000 trees and shrubs in containers ranging from a 1 to 15-gallons. We also buy and resell products as necessary to meet the needs of our customers.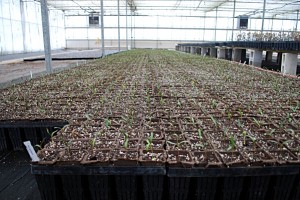 We are easily accessible to our customers around Ontario, located just north of Hamilton, Ontario, halfway between the 401 and 403. This location makes for easy shipping to our customers in other areas as well.
We serve a variety of customers, including landscaping contractors, conservation authorities, and other nurseries. We value our customers and our relationship with them. Our goal at all times and for all our customers is to provide a high quality plant at a reasonable price.